Happy New Year from the FamTeeWorld family!

2019 was a spectacular year for us, but we couldn't have done it without your support - thank you.

Now we've finally reached 2020, a crucial point for President Trump. This is the year that we really have to come out in full support and do everything we can to ensure his re-election.

The FamTeeWorld team does not take this responsibility lightly, so here's what you can expect from us in 2020 to help you ensure President Trump's re-election.
We'll Be Bringing You the Latest Updates from the Trump 2020 Campaign Trail 
Starting next week, we will be following President Trump's 2020 campaign trail like a hawk and bringing you the latest updates as they happen.

To bring you a more personalized experience, you will also be receiving alerts & reminders of when President Trump will be making stops in a city near you.

Use the hashtag #TRUMPFAM to meet up with other local FamTeeWorld Trump Supports to get together at rallies! Tag our Facebook Page @KeepingAmericaGreatAgain plus #TRUMPFAM to be featured on our social media and receive exclusive discounts! 
We'll Be Releasing Even More Brand-New Trump 2020 Products

You asked, and we listened!

In 2020, you can expect us to be adding many more brand-new Trump 2020 designs to help you do your part in re-electing President Trump.

Hats, shirts, hoodies, mugs, shoes, flags, and so much more is coming your way in this new year. 
We've Started Text Alerts to Keep You Always on Top of Trump's 2020 Re-Election Campaign
Sometimes our emails don't get to you, but our text messages always will.

If you would like to stay up-to-date on the latest Trump Rallies in your areas, 2020 re-election campaign updates, or new products and discount, join our Text Alerts to always stay on top of supporting our President.

Plus, if you join today, we'll send you a 10% OFF coupon for your next order.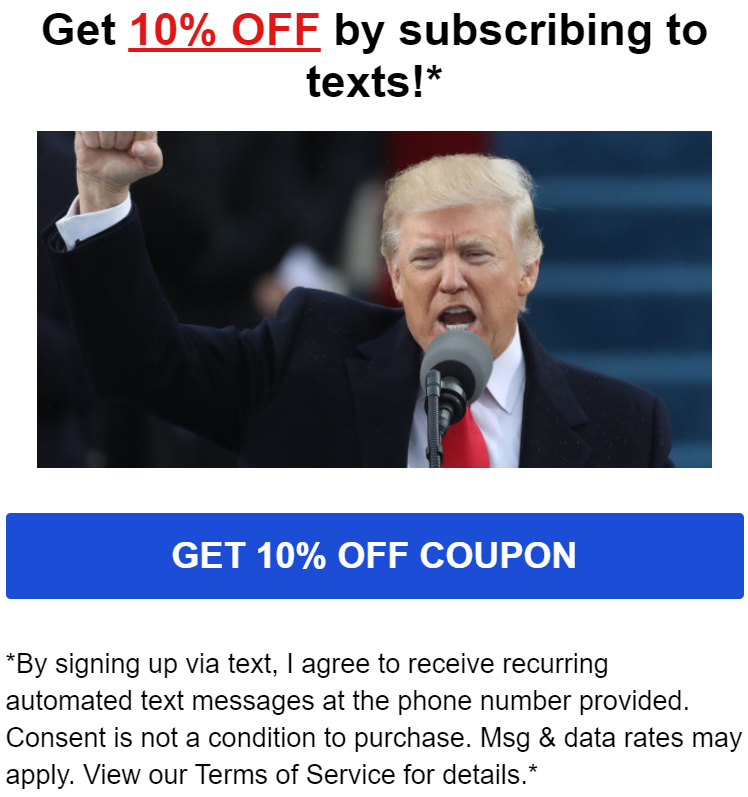 ----------
What would you like to see from us in 2020?

Join our text alerts and reply to the text to tell us what you'd like to see from us.

We'll then bring this to our FamTeeWorld Trump 2020 Re-Election Team to implement into their strategy.



Dan
Author
FamTeeWorld