It comes as no surprise that the Iranian government is now hurling empty threats at President Trump after his heroic strike against Soleimani.

Unlike his predecessors, President Trump does not take threats against American lives lightly.

Almost immediately after President Trump's removal of the threat of Soleimani, he issued a stern warning against Iran, promising severe consequences if Iran retaliated.

Apparently, they aren't the brightest. 

Almost immediately after Soleimani's death, Iranian Supreme Leader Ayatollah Ali Khamenei promised to "take revenge for this heinous crime... harsh retaliation is waiting for the criminals whose filthy hands spilled his blood."

After that, Iranian MP Abolfazl Abutorabi threatened to directly attack the White House in response to Soleimani's death when asked how Iran should react to Trump's drone strike.

In a recent interview, Abutorabi was quoted as saying:
"We can attack the White House itself, we can respond to them on the American soil. We have the power, and God willing we will respond in an appropriate time."
In no time, President Trump was quick to respond to the idiotic threats in a recent tweet as shown below: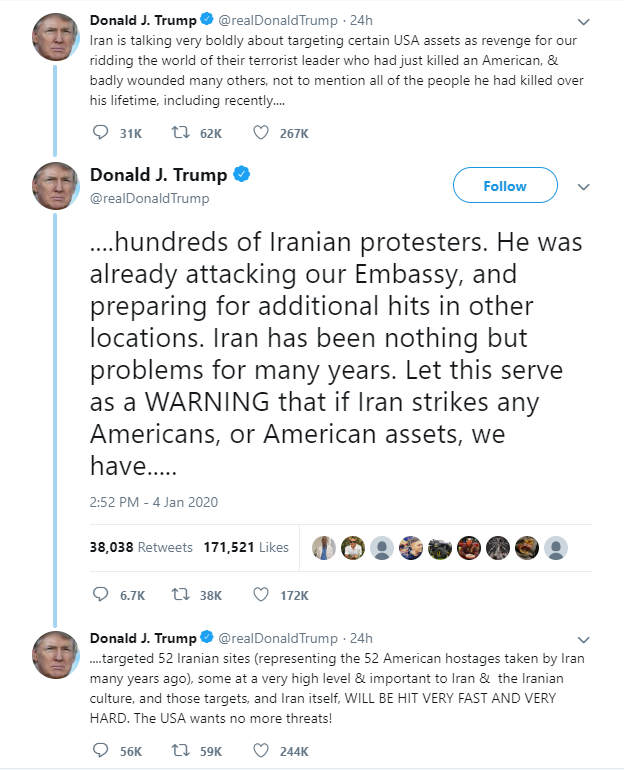 That's right; Iran threatens one United States landmark, President Trump threatens 52.

President Trump has made it extremely clear that he expects the Iranians to stop threatening the United States, and that he does want to attack them anymore.

Soleimani's death was a retaliation against his attack on the United States and his killing of American soldiers, so any retaliation from Iran is childish and ridiculous.

President Trump then went on further to tweet:


"The United States just spent Two Trillion Dollars on Military Equipment. We are the biggest and by far the BEST in the World! If Iran attacks an American Base, or any American, we will be sending some of that brand new beautiful equipment their way...and without hesitation!"
It's very refreshing to finally have a President that isn't afraid to protect his citizens and armed forces. 

As Teddy Roosevelt once said, "Speak softly and carry a big stick."

Although Trump has never really been one to speak softly, he is for sure letting our enemies know just how big our stick is.
----------
What do you think about Trump's response?

Do you think Iran will actually do anything?

Let me know in the comments!

Dan
Author
FamTeeWorld
P.S. Show your support for President Trump's re-election with our "USA 45 Hat"!
 "PROUDLY MADE IN THE USA"