To say there was a lot of backlash in the beginning of the Trump presidency is a bit of an understatement. Millions of confused libtards and dems flocked to the streets and social feeds with their disapproval and "Not My President" BS.

But now, nearly 4 years into his presidency, the tides are beginning to change...

The amount of Americans who have a favorable view of 45 has significantly increased since his 2016 win, as seen in the chart below.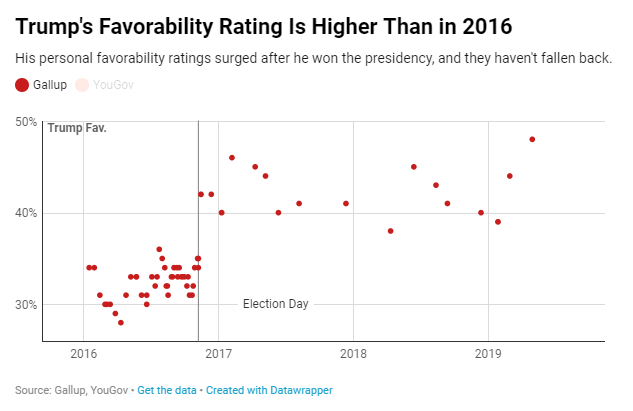 A different measurement, the president's job approval rating, has also been inching up in approval, matching the highest it has ever been.

It is not only left-leaning dems who are beginning to see the light, but also Republicans who weren't in favor of Trump. According to data from the Voter Study Group, 28% of Republican-leaning voters with an unfavorable view of Trump in 2016 now have a favorable view.

This aggregate data suggests the President has been gaining supporters from both sides of the political spectrum, and it's about damn time!

What do you think about this new data? Are dems really finally coming to their senses?

Let me know in the comments!

Together we can Keep America Great...

Dan
Author
FamTeeWorld