Earlier this week, President Trump gave a detrimental update on America's positioning on Coronavirus testing. Admiral Giroir & Top Healthcare Official Brad Smith also gave important updates regarding the state of the nation.

But most importantly, President Trump is finally going after the biggest American traitor; Barack Hussein Obama.

Following through on our promise to keep you updated with straight-to-the-point facts & reporting, here's a quick breakdown of this briefing.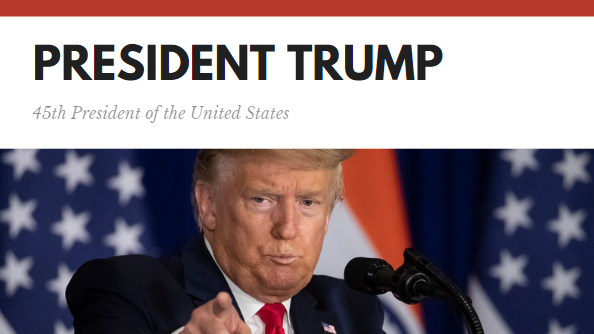 The United States launched the largest manufacturer ramp up since WWII.


The US currently has the best testing system in the world.


300,000 tests are being conducted daily.


The federal government is sending $1 billion of aide to each state.


There are currently 5,000 testing machines and 700 labs across all the 50 states.


FEMA and HHS will be giving out 12.9 million swabs nation wide.


The leading pharmacies and retailers will be working with more testing stations, which leads to the U.S. having 240 testing sights.



Now the private sector is helping with Coronavirus efforts, and is going to deliver"

90 million N95 masks

126 million surgical masks

9 million face shields

21 million surgical gowns

993 million gloves

And 10,690 ventilators 



$1.5 trillion has been allocated to improve and build the military.



The Southern Border wall is in the process of being built quickly and efficiently.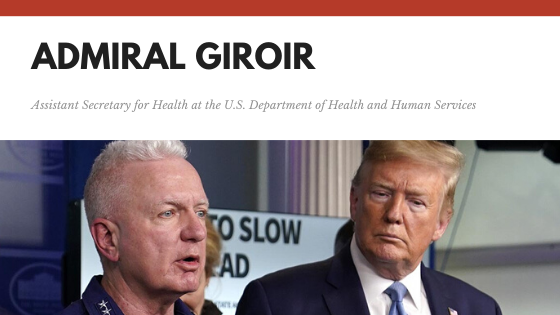 As of today, 9 million Coronavirus tests have been completed. This is twice as much per capita than South Korea.


Abbott testing has distributed 1.4 million care tests that give you results in 5-15 minutes.


300,000 tests are being produced per day, which equates to around 9 million Point of Care tests per month.


The test-positive rate is now less than 10%. This combined with the amount of tests being produced is a clear sign that we can enter Phase 1 of re-opening.

Admiral Giroir & Brad Smith have been to each state and have determined individual testing goals.



There are 3 components to ensure that a test can occur:
Specimen Collection Supplies

Machines

Lab Supplies
There are plans to work with retailers to focus on developing plans to help low income and vulnerable communities.


There are currently 5,000 different machines that can conduct accurate tests.


The President then took questions from The Press.



Question from the Press: *Talks about the case found in the White House where someone tested positive* "Where did the system break down to allow that to happen? What would you say to employers to look at the experience here at the White House and say 'Are we ready for this?'"
PRESIDENT TRUMP:

The system didn't break down; s

omeone surprisingly tested positive for the virus, and now that person and the people who came in contact are being isolated.
-----
Question from the Press: "Should people be told to go back to work until they have that assurance that they and their co-workers are able to get out?"
PRESIDENT TRUMP:
That decision is up to the governors.


If Trump and his workers see a problem occurring, they will put a stop to the governors decision.

-----
Question from the Press: "There are a variety of reports that Chinese hackers are attempting to steal technology related to vaccine research. Is this something you are concerned about?" Second Question: "South China Morning Post "The Beijing Newspaper" says that China would like to reopen negotiations on the trade deal to make the terms more favorable to them. Is this something you'd be interested in doing?" 
PRESIDENT TRUMP: 
Claims they could've stopped this virus at the source.


Says, "We are watching them very closely... No, not at all, not even interested

 

(in re-negotiating with China)... China has been taking advantage of the U.S for many years "


-----
Question from the Press: "What are your thoughts about a second round of direct payments to Americans that's included in the House Democratic bill?"
PRESIDENT TRUMP:
Wants to see a payroll tax cut.


Have been negotiating with the Democrats to see if they can do.



Claims we are going to have a phenomenal year next year.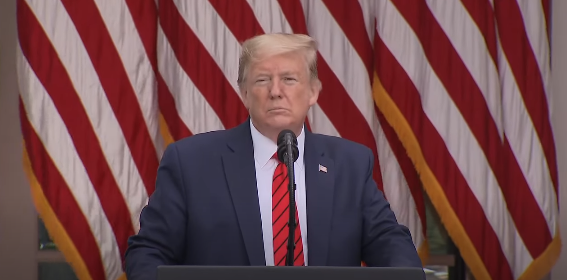 Question from the Press: "Why haven't you required everyone at the White House to wear masks before now?"
PRESIDENT TRUMP:
If they are closer than 6 feet, they're told to wear a mask.


Everyone in the Rose Garden is far enough to where he doesn't have to wear a mask.


-----
Question from the Press: "Can you give us some figures on what you're changing to ramp up testing, when will that be a true statement exactly, and how exactly are you going to accomplish that?"
ADMIRAL GIORIR:
It's a combination of testing people who need something for diagnosis, tracing people who have been in contact with the virus, and testing those who are asymptomatic.


Influenza Illness Network is roughly around 75% of health care institutions and syndromic surveillance.


If an outbreak occurs, the surveillance is surely to detect it and we will put it out as quickly as possible.


-----
Question from the Press: "How can you ensure Americans that it's safe to go to their own work places when the most secure workplace in the country, the White House cannot contain the spread of the Corona Virus?"
PRESIDENT TRUMP:
The person who got tested positive and the three people who came in contact with the person is in quarantine.


This situation is in control and well contained.


-----
Question from the Press: "Up until now, it was thought that the most vulnerable people were those above the age of 60 or 70 or 80, and the children were thought to not have been affected by the virus. All day long in the news today we have been hearing and seeing this terrible syndrome that 85 children have and 3 have died. What is the task force talking about in terms of that and what could be done about it?"
PRESIDENT TRUMP:
This is being seen all over the world, a tiny percentage but it may spread.


Some of the effects are swelling and skin rash.



Keeping a close eye on those cases and writing down as much information as we can of that syndrome.

ADMIRAL GIORIR:
This syndrome is very similar to Kawasaki syndrome and it has been seen.


We do know treatments for this syndrome.



CDC is working intensively with the pediatric intensive care unit network to create case definitions.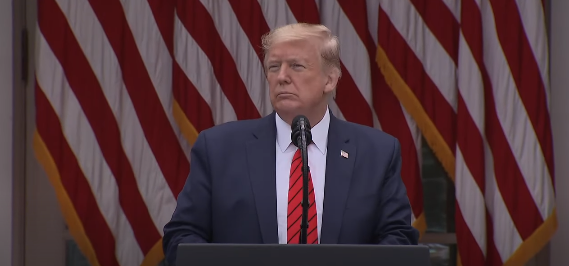 Question from the Press: *Refers to the syndrome involving the children* "What do you say to parents who would like to get their children back to school, but are now looking at this and potentially afraid to do that?"
PRESIDENT TRUMP:
The amount found with this syndrome is very low percentage.


Keeping a close eye on it and keeping tabs.


Admiral Giroir said he knew about this long before this happened.



Germany and the U.S have the lowest death per 100,00 people.
-----
Question from the Press: "Did your delay in embracing widespread testing have anything to do with a desire to suppress the official number of U.S cases and deaths as you try to reopen the country?" 
PRESIDENT TRUMP:
He w

anted to make sure we had the right amount of machinery, apparatus, and the rest of the supplies.
-----
Question from the Press: "Why do you believe that their motive is politics rather than Public Safety, and how do you respond to criticism that you're also motivated by politics to try to grow the economy ahead of the election?"
PRESIDENT TRUMP:
The numbers are getting to a point where people can go back to somewhat normal lives.


People are dying not just from Corona, but from suicide and drug addiction as well.
 

Some states are moving faster than others, and that's something we have to look at for reopening.
-----
Question from the Press: "Is there anything else that the administration is planning to do to get these new cases under control? Because we seem to be on a plateau."
PRESIDENT TRUMP:
Cases have been getting lower from two weeks ago.


This weekend was the lowest amount of new cases we've seen.



The 40,000 people who were coming back to America from China were immediately put in quarantine, and if we hadn't, we would've lost more people than we have already lost.
-----
Question from the Press: "The Vice President Earlier today urged governors to have all their nursing home residents tested. Why not just mandate that, why not require that, have you considered that?"
PRESIDENT TRUMP:
Says some governors lack respect for nursing homes.



Wants to see all the states mandate nursing homes, it is a huge vulnerability.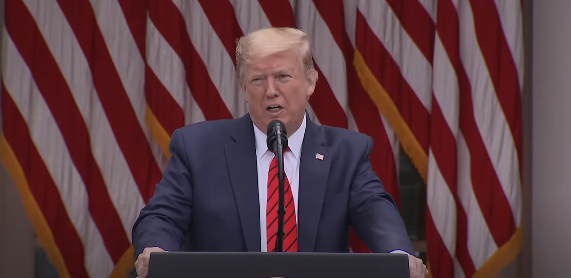 Question from the Press: "The two staffers that were announced last week as testing positive are you aware of any additional white house staff?"
"No, not at all, I'm only aware of people that saw them. They were tested, and the tests were negative, but they're quarantined anyway."
-----
Question from the Press: "Are you now or are you considering separating some more with Vice President Pence as a precautionary measure?"
PRESIDENT TRUMP:
Says Pence is a warrior like doctors and nurses, working around the clock and working hard.


Pence comes in contact with many people, and since then he has tested negative every time.



Says he will talk on the phone with the Vice President to talk about this situation.
-----
Question from the Press: "What crime exactly are you accusing President Obama of committing, and do believe the Justice Department should prosecute him?"
PRESIDENT TRUMP:
"The #OBAMAGATE has gone on for far too long. It should have never happened in our country... Over the coming weeks, you'll see what's going on with this situation."
Show the world you know that Obama is guilty of his crimes against America with our "

TRUMP TRAIN

" t-shirt, available in both mens and womens fit!

Thank you for reading,
GOD BLESS PRESIDENT TRUMP



Greg
Author
FamTeeWorld