The waste of American tax dollars that is the Impeachment Trial of President Trump has wrapped its first week up tonight.

Seeing as there's so much fake news in the ether, and we made a promise to our fellow Americans, here is a brief breakdown of everything you need to know about this week's impeachment so far.
Day 1: Democrats Try to Make Their Own Rules, Gets Served a Big Plate of "No"
The Senate decided on rules for the trial.


Democrats tried to weasel in unfair amendments, immediately denied


Mitch McConnell made his own changes to the rules instead, giving a more fair trial


President Trump's reaction:
"The Democrats are an utter joke — they have no case, and this latest political stunt proves it." 
Day 2: Democrats Repeat the Same Nonsense, Still Have No Evidence
Nobody was convinced by Lead House Impeachment Manager Rep. Adam Schiff's shifty timeline on the Ukraine allegations.


Much of the "evidence" came from the Impeachment hearing where they were deemed insufficient.


Democrats continue to eat their own tail. 
Day 3: Fidget Spinners
The trial was such a joke that Republican Senator Richard Burr handed out fidget spinners to colleagues to keep them from falling asleep.


Democrats continued to try and prove President Trump was guilt of using the Ukranian situation for personal political gain, again, without any evidence
Republican Senator Lindsey Graham: "I know a lot about the Trump family and their dealings in Russia. I don't know anything about the Biden connection. You're going to hear more about that." 
Day 4: Finally, Evidence in the Form of... Conspiracy Theories 🙄
The Democrat's first piece of real evidence was, I kid you not, a conspiracy theory.


Two Democratic Representatives are convinced that the

Ukrainian

 "cover-up" is part of a bigger cover-up.


A vague recording of President Trump saying, "Get rid of her. Get her out tomorrow. I don't care. Get her out tomorrow. Take her out. O.K.? Do it." was put forth as evidence that the President was talking about Yovanovitch, U.S. ambassador to Ukraine at the time.


However, in the recording, President Trump didn't exactly say who he was referring to.


The President's response: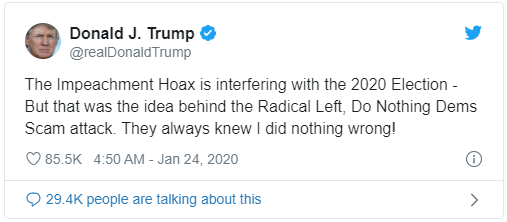 President Trump then spent the day at the Annual March For Life, the country's largest anti-abortion demonstration, fighting for the lives of unborn Americans.
To sum it up, nothing new has happened.

Democrats are trying to convince the Senate that their feelings and conspiracy theories are right, and are getting rejected.

Republicans use fidget spinners to help the time pass.

Tax dollars were wasted.

What do you think about the debacle? Let me know in the comments!

Dan
Author
FamTeeWorld