Well… not exactly.
As kids, many of us are taught that the First Amendment guarantees the right to free speech. In adulthood, lots of Americans extend this to believing and acting as though they can say anything they want without consequence. But this is a gross misinterpretation of the First Amendment and its intended effects.

Let's take a closer look at what the First Amendment really means and what you can say without getting into trouble:
What Does the First Amendment Really Say About Speech?
A common misunderstanding people have about the First Amendment is that it doesn't protect you from all censors. It only limits Federal Government actions. It states that the Federal Government – not a private company or even another citizen – cannot interfere with your speech unjustly.
For example, the government can't stop a disgruntled employee from arguing rudely with their boss. But the boss, who is not the Federal Government, doesn't have to listen to the disgruntled employee and therefore can take whatever actions they desire in response to a rant, such as firing them.

This broad principle is true, but it also has exceptions. There are a few things you are not allowed to say because they violate other aspects of the Constitution or potentially break the law (more on these below).

NEW Trump 2024 Hats
Bundle & Save 10%
"Take America Back" design available in 3 colors 
Proudly made right here in New Jersey, USA
SHOP NOW
Is Limiting Speech on Social Media a Violation of the First Amendment?
Another common point of contention among political pundits these days is "canceling" or limiting free speech on social media platforms like Facebook or Twitter. But "canceling" – that is, removing someone's ability to post on social media – does not constitute a violation of the First Amendment at all.
Remember, social media companies are private organizations that can limit who or what is said on their platforms as much as they please. They are not the Federal Government.
If the Federal Government had a social media platform called "GovBook", and they tried to limit free speech, they would be violating the First Amendment. But people who are blocked, silenced, or otherwise stopped from saying whatever they like on another social media platform are not having their rights violated.
Unfortunately for us, that means the removal of Trump's presence in the media leaves us with little we can do besides boycott the individual platforms themselves.

As mentioned above, the Supreme Court has identified nine types of speech not currently protected under the First Amendment. These include:
Child pornography 
Blackmail Perjury 
Defamation Obscenity 
True threats Incitement to imminent lawless action 
Criminal solicitation 
Fighting words
Why are these forms of speech not protected? In short, it's because they either break the law (as in the case of blackmail or child pornography) or may incite others to break the law by fighting, rioting, and so on (as in the case of threats).
A real-world example of this is somebody yelling "fire!" in a crowded theater. "Crying wolf" like this could be dangerous and lead to mayhem and panic, so you aren't allowed to do it - even though it is technically a form of free speech.

So, there you have it. The First Amendment protects your right to free speech against government censure, provided that that speech doesn't violate the law in any reasonable capacity.

Thank you for reading, stay strong patriots. 
Justin | FamTeeWorld

Maine, USA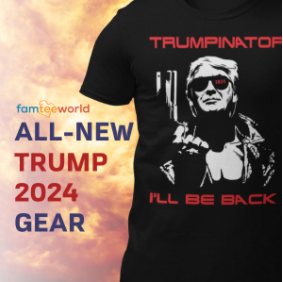 NEW Trump 2024 Collection
Bundle & Save 10%
Exclusive to FamTeeWorld 
Fresh new drop of hat & tee designs
For a limited time, bundle & save

SHOP NOW